Beaches | Explore | Eating Out | Golf | Hiking | Lakes | Perfumes | Picasso | Skiing | Vineyards | Water
Beaches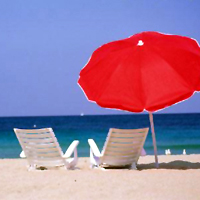 There are several within easy reach:
Mandelieu-La Naponte-Cannes, Golfe de Frejus, La Croisettes, Cannes, St Raphael, Ste Maxime, and St Tropez.

Iles de Cannes - There are some small islands off the beach at Cannes which can be reached by public ferry or sailing boat. The water around them is a stunningly clear turquoise and is perfect swimming territory.
It is a great spot for days out.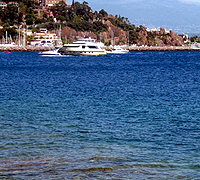 Explore the Coast
Theoule Sur Mer, Antibes, Cannes Mandelieu, Cannes, Corniche D'or area, St Maxime, St Raphael are all between 40 mins - 1 hour by car, Cannes Mandelieu or St Raphael being the closest.

You can find beaches with diving pontoons, pedalos, places to people watch, cafes and bars.


Eating Out
There are several excellent restaurants in the locality and many auberges.



Hotel Restaurant Deux Rocs in heart of historic Seillans.
Tel: 00 33 (0) 494 76 87 32
Offers tranquil al fresco fountain side dining / drinks for lunch and dinner and is 'our favourite for delicious local cuisine and a friendly atmosphere.' Click for info ->

Le France in Fayance is an excellent fish restaurant with al fresco terrace.

Also recommended are:
Castelleras - Seillans, Moulin de la Canardonle - Fayance, and Marinas - Montauroux

Golf
Domaine de Terre Blanche (Four Seasons) is a club of outstanding quality with two 18 hole golf courses plus a golf academy with a floodlit practice range and all weather covered positions.
Click here for their own website.

Golf de l'Esterel (Par 71, 5825 metres) is just over a mile away from the wonderful beaches of Saint-Raphael. This course actually runs into the Mediterranean Sea giving it magnificent views and making it wonderfully relaxing.
Tel +33 (0)494 526 830, Fax +33 (0) 494 526 831

Golf de St-Enderol is a world class 18 hole course catering for both expert and amateur golfers and is set in the spectacular Enderol mountains.
Tel +33 (0) 494 388 007, Fax +33 (0) 493 421 182

Back to the top of the page.

Hiking
To the east of Lac de St Cassien is Bois de Callian (Callian forest) which goes up over the hills towards the village of Tanneron where oak trees merge into a sea of Yellow Mimosa forests. To the west the hills and forests are wilder and steeper.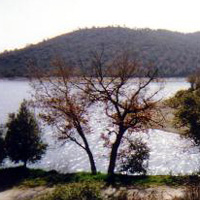 Click here for more information about trekking in Provence.

Lake Life
Lac de St Cassien is a wonderful fresh water lake located on Montauroux. It is possible to swim, boat, and fish (once a license has been purchased from one of the small lakeside cafes). No motor vehicles are allowed on this lake making it pristinely clean and safe for children. There are also picnic areas and hiking trails around the lake and in its bordering woodland. The lake is home to some rare breeds of carp fish.

Back to the top of the page.

Perfumes
16km inland from Cannes is the home of the world's best perfumes. Grasse has a medieval heart surrounded by hectares of scented flowers and enjoys stunning views over the Cote d'Azur. There is a perfumery museum and countless perfume factories offering tours of distilleries etc.
Click here for more information.

Picasso
Picasso lived just northeast of Cannes in the little town of Vallauris which is set in the hills above Golfe Juan. During this period Picasso worked largely in clay at the Madoura workshop on Avenue des Anciens-Combattants-d'AFN where it is now possible to browse and purchase Picasso reproductions.

Back to the top of the page.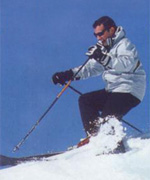 Skiing
Isola 2000 is about 2 hours drive from Seillans and offers skiing at 2000 metres altitude from December to April.
Click here for their own website.

Geolieres Les Neiges is 1 1/2 hours drive and offers skiing at 1400-1700 metres altitude from Christmas to March. The resort, though relatively small, is good for learning and can be excellent after a big snowfall. The resort also has snow canons.

Vineyards
Rhône Valley and Provence - some of France's best wine is produced in the Côtes du Rhône vineyards of which the most celebrated is the Crozes-Hermitage appellation. Passing the nougat town of Montélimar and into Provence itself the best wines are found in the villages around Dentelles-Gigondas and at Châteauneuf-du-Pape. There are also many excellent vineyards along the coast and to the west are the lighter wines of Côtes du Vertoux and the Côtes du Lubéron appellations.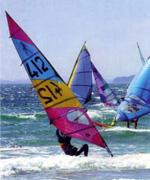 Water Sports
Gorges du Verdon, or Grand Canyon of Verdon, is a spectacular canyon situated between the Alpes du Haute Provence and the Var. Up to 700m deep this 21km long inlet varies in width from 6m and 100m at its base to 200m and 1500m at its rim.
Possible activities include white water rafting, canoeing, kayaking, sailing, water skiing, fishing, and paragliding, freeflight, or gliding.

Back to the top of the page.


Welcome | Tour the Villa | Photo Wall | Seillans & Surrounds | Activities & Sights | Directions from Nice | Reservations & Contacts


© 2015 PM