Seillans, merely 10 minutes walk from the house, is hallowed as one of the most beautiful villages in Provence and even France, and it has the prestigious title of Village Fleurie (a flowered village).
Its name is thought to be derived either from the moon goddess Selena or the roman knight Selenus who lived there centuries ago.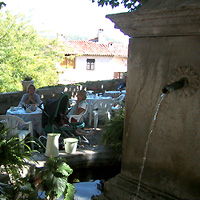 It is steeped in history boasting a medieval saracen gate, a feudal castle, an XIIth century chapel, a XIth century church, and is paved completely with ancient cobbles.
Several small shops serve the local community and authentic provençal produce can be bought as well as every day essentials.
The charming restaurants and quaint hotels serve up a friendly provençal reception and local delicacies.
In the cobbled square, dappled with sunlight, it is possible to find a quiet table beside a flowing spring water fountain and enjoy some rosé or a spot of lunch before continuing to explore the winding streets of this beautiful village.
Fayance is a pretty market town 10 minutes drive from Seillans and has a number of small gift shops selling locally derived specialities, lavender bath products, olive oil, honey and local textiles.
There is a weekend market specialising in farmers' produce plus some small restaurants and cafés with al fresco dining and coffee.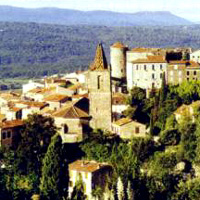 Callian is a sleepy cobbled village built around a beautiful hilltop chateau and is 15 minutes drive from Seillans.
There is a selection of small shops selling local essentials, a VIth century church and a natural spring fountain besides which local people sip coffee and pastis.
Montauroux is built around a former fortress 12 minutes drive from Seillans. At its centre lies a sunny market square where it is possible to enjoy a drink and watch the world go by.
There is a market day in the square and a selection of small shops including an excellent butcher and baker.
Historical sights include the remains of a roman aqueduct and a stone bridge where the great warrior Hannibal took his army and herds of elephants across and into battle!
Cannes, only 30 minutes drive from Seillans, offers a dazzling array of nightlife opportunities including excellent restaurants and bistros plus vibrant bars and nightclubs.
The famous harbour is filled with gleaming yachts and its streets are filled with exclusive boutiques and cafes catering for its chic and often celebrity inhabitants.
Welcome | Tour the Villa | Photo Wall | Seillans & Surrounds | Activities & Sights | Directions from Nice | Reservations & Contacts


© 2015 PM